Project Date: 25 August 2021
Thirty five years ago, exactly on the 8th of May 1986, the author and historian Ernle Bradford, who lived a big part of his life in Kalkara, died. On the same year, on the 3rd of November, the Minister for Foreign Affairs and Culture, Dr. Alex Sceberras Trigona, inaugurated a commemorative marble plaque in Triq Malta Rebbieħa (formerly Triq Marina) affixed on the facade of the house where he lived in Kalkara as a remembrance of this author.
Ernle Bradford, born on the 11th of January 1922, fin Cole Green, Norfolk, England was a noted 20th-century British historian specializing in the Mediterranean world and naval topics. A keen yachtsman himself, Ernle Bradford spent almost thirty years sailing the Mediterranean, and many of his books are set there. Ernle Bradford lived in Kalkara creek, Malta for a number of years were he befriended the locals. Ernle Bradford died in Kalkara on the 8th of May 1986.
While living in this house in Kalkara, Ernle Bradford wrote the below books:
1962 The Touchstone
1969 The Sultan's Admiral
1970 Antique Furniture
1971 Cleopatra
1971 Gibraltar
1971 The Mediterranean
1973 The Shield and the Sword Knights of Malta
1973 Christopher Columbus
1974 The Sword and the Scimitar-Crusades
1975 Paul the Traveller
1977 The Essential Hero: Nelson
During the last months, Assoċjazzjoni Wirt il-Kalkara expressed the urgent need to restore this marble plaque which due to time and elements ended up in a very bad state, such that the engraved words were unreadable. After the authorization from the owner of the house, the Association submitted an official request to the Kottonera Foundation for restoration works. The Hon. Glenn Bedingfield, Chairman of the same Foundation, accepted this request and the restoration works started shortly after by the Restoration Directorate. The restoration has been completed in the last days, and the marble plaque has returned back to its former glory. Special thanks to the Kottonera Foundation and the Restoration Directorate.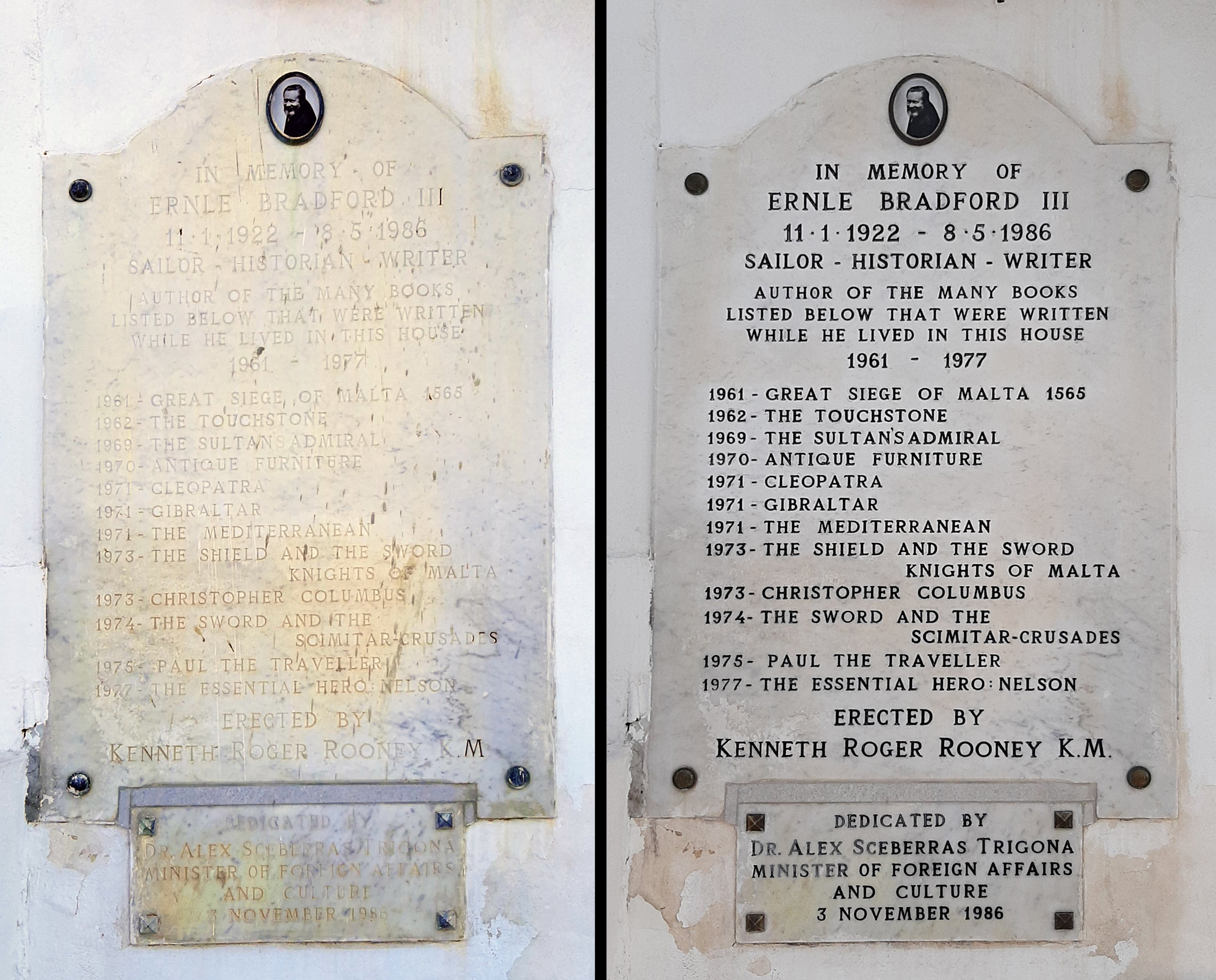 ---
You can also see
Inauguration of the restoration of Ernle Bradford's marble plaque in Kalkara