Written by Giovanni Navarro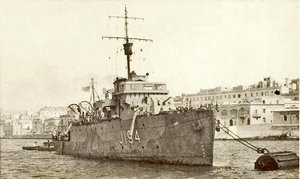 Once, in an opportunity to visit Hythe Town Hall in Kent at lunchtime, in the main chamber hanging rather inconspicuous was a little framed photograph of a Naval Ship. Obviously, I quickly got close to inspect it, it became obvious that the Ship J194 was moored in Dockyard Creek in the Grand Harbour, Malta. I became inquisitive for obvious reasons; the attendant could not shed any light as to why the photograph was in that location. Therefore, after a quick search on google to establish the identity of the ship J194 resulted that it was HMS Hythe, a British Fleet Minesweeper.
This Ship had strong ties with the Island of Malta, in fact, it spent quite a long time 'Minesweeping' in and around the area. HMS Hythe was commissioned on the 6th of May 1942, sailed to Gibraltar with its sister ship HMS Rye to join the 17th Minesweeper Flotilla. In June 1942 the Flotilla proceeded to Malta as part of the 'Operation Harpoon'. They cleared the way to the Grand Harbour and led the Convoy into Malta in August 1942. The Flotilla participated in the famous Malta Convoy 'Operation Pedestal' the 'Santa Maria Convoy', this included the rescue of the Oil Tanker 'SS Ohio'.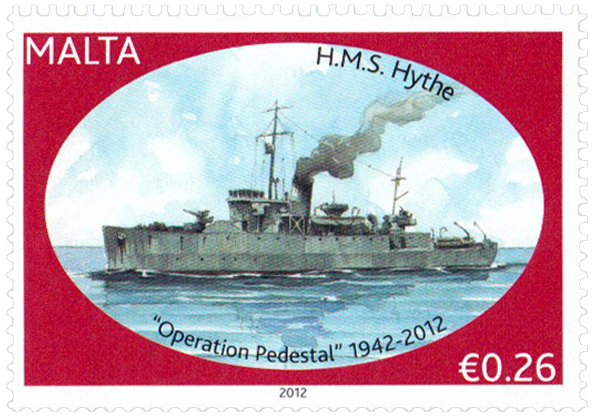 HMS Hythe was honoured by the company 'Malta Post' when they published a special issue of stamps to commemorate the 70th anniversary of this historic event. HMS Hythe is printed on the face of the €0.26 Postage Stamp.
In July 1943, HMS Hythe joined the 14th minesweeping Flotilla to Sicily and on the 8th of July 1943 it sailed back to Malta with a convoy and cleared its path. Later returned to Malta for patrolling and minesweeping duties. In August 1943 she returned to the 17th mine Flotilla. On the 8th of August 1943 it left from Alexandria with MK821 Convoy for Gibraltar, arriving there with one damaged mercantile ship in tow. HMS Hythe was then deployed again to Malta. On the 9th of October 1943 it left Malta to escort Convoy GU18 to Gibraltar.
On the 11th of October 1943 at 01:09 hours, HMS Hythe was torpedoed by a GNAT aircraft off Bougie, Algeria. Sadly, it sank along with 50 of its crew, the survivors being rescued by HMS RYE.
The connection with Malta is even more deep rooted as one of the seamen who lost his life was 34 years old Giovanni Gatt, Leading Cook (O) (no. E/LX 20868), son of George and Angela Gatt and husband of Lorenza Gatt of Kalkara, Malta, G.C, Memorial: Plymouth Naval Memorial in the UK.